Bearable Dentistry dental professionals are specialists in restorative dentistry. Restorative dentistry refers to repairing or even replacing broken or missing teeth. Fillings, crowns (sometimes called "caps") dental bridges and implants are common restorative treatments. The goal is to restore your nature smile and avoid oral health issues which develop when dental care is neglected.
Teeth shift and move throughout our lifetimes. Lost adult teeth can create an empty space which may cause teeth to shift. Filling empty spaces in the mouth helps keep teeth in proper alignment. Broken and/or cracked teeth can lead to decay and infection which can be painful and lead to general ill health. Taking care of those conditions early stops the decay and makes infection far less likely to occur.
Dental fillings are a common way to treat dental decay (also called "cavities"). Your dentist will provide appropriate anesthetic to help keep you comfortable during the procedure. The decay will be removed and the tooth will be filled with one of several different materials. These filling materials include tooth-colored plastic or composite resin, gold, porcelain or silver amalgam. Your dentist will help your select the appropriate filling material for your situation.
Dental crowns are tooth-shaped caps that are placed over a damaged tooth. The crown is used to strengthen and protect your tooth structure. Your tooth prepares the tooth and takes an impression which guides our specialized dental lab in creating a crown especially for you. Crowns can be made of gold or a combination of materials to replicate a natural tooth.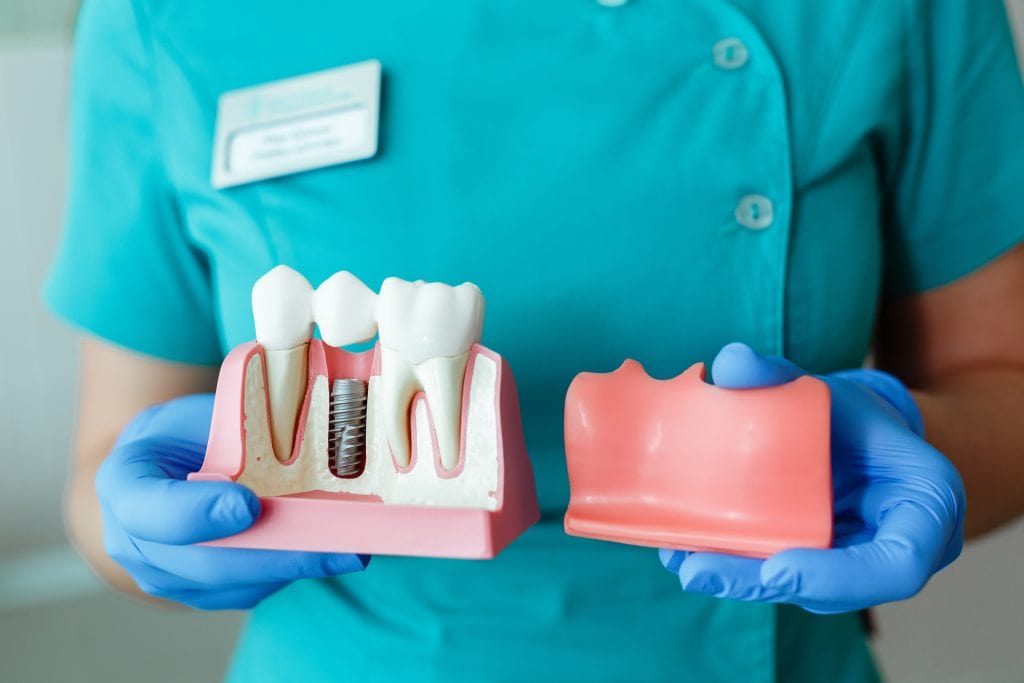 Dental implants have been used in dentistry for many years. There have been advances in technology which make dental implants a great option for filling gaps left by missing teeth. An implant has and anchor, an abutment to accept a crown and a false tooth (crown). A dental implant looks and feels like a natural tooth. Implants can also be used to anchor false teeth such as dentures.
Restored teeth require just as much care as your natural teeth! Dental plaque can form on filled areas and crowns.  Be sure to brush your teeth thoroughly twice a day. Power/electric toothbrushes can help remove plaque from your teeth and restorative work.  Flossing is always important but make sure to floss around restored teeth – implants, crowns and bridges too! Restorations can suffer damage just like natural teeth.
A dental bridge takes the place of missing teeth. It "bridges" the gap between natural teeth and a gap in your teeth. A bridge is anchored in place by a crown on each end. Artificial teeth connect the crowns and fill the space. The bridge can help keep your teeth from shifting. Once in place, your bridge works just like your natural teeth.
Your Bearable Dentistry Dental Team
Your Bearable Dentistry dental team will help you find the best solution to restore your smile. Restorative dentistry doesn't just improve your smile's appearance it is also an investment in your overall health.